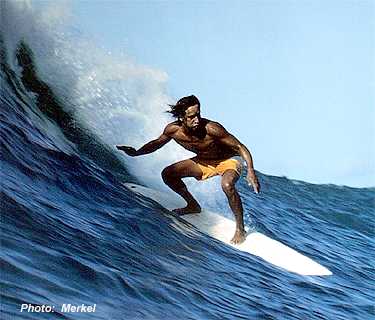 10 more things you MIGHT not have known about living Hawaii.
(See links at left for first 30)
31. When it rains, it's usually just for a little while and then it clears up again. Just enough to cool you off and then it's sunny time fun time again. (not always though, sometimes it dumps rain all day). This is one thing that really tripped me out when I first moved out here. In LA if it rains, it's usually raining all fucking day. After moving to Hawaii, I'd wake up and see it raining and be like, "shit, rainy day" and then like 2 minutes later it would be sunny & beautiful.
32. The most popular place for people to go vacation is Las Vegas. Local people LOVE Vegas. Plus there are phat deals especially for the locals. You can practically vaycay in Vegas for the same price as going to Maui or another outer island. Certain hotels in Vegas have special deals for the Hawaiians, most notably the California in downtown.
33. which leads to my next dillio, the outer island holoholo (vacation). You can hook up phat deals if you're a local resident that include air, room, & car for going to the neighbor islands, like Maui, Kauai, Big Island, even Molokai & Lanai. Sample pricing for a local: Mrs. P & me went to Maui last year for 5 days 4 nights and air/room/car package cost us about $700, which included a pretty nice hotel, nothing like the fukn Ritz, mind you, but it wasn't Motel 6 neither. The year before when we went Big Island, I think we only paid like $600. good times.
34. Traffic is way worse than you would think for a little island in the middle of the pacific. In fact I read somewhere recently that Honolulu is the most traffic congested city in the US. (I don't know if I buy THAT, but it is pretty fucked up sometimes). A big part of the problem is that there a lot of the outlying areas only have one route into town, which means they get backed up to hell, and you get people with a 2 hour commute that are only traveling like 30 miles or some shit like that. This leads to drastic differences in real estate pricing around the island depending on how much traffic you have to fight during rush hour to get to & from town (well, also dependent on the quality of the neighborhood).
35. On the windward side of Oahu there's a huge sandbar, which is basically a shelf of reef covered with sand that kind of "floats" out in the middle of Kaneohe Bay. It's kind of like a beach out in the middle of the ocean, that only exists from the morning time until around 2 in the afternoon, then it gets covered by the tide. People take their boats, outriggers, canoes, etc. out there & bbq and hang out & party out on this big patch of sand until the ocean washes it away in the afternoon. You can chase around turtles, kick back with a brewski, ya know, duwhatchalike.
36. the public school system here is a fukn travesty. It's a banner year if Hawaii is any better than 48 on the list of 50 states regarding quality of the school system. Which is all part of the dogshit corrupt local government which up until this year was run by the democrats. (see #13) The state government totally runs the school system through the dept. of education, which is so totally fukn overrun by beuracrats you'd have to go through there with a fukn machete to clear out the riff-raff, which hopefully our new republican governor is making some headway on. For this reason, anyone with money sends their kids to any one of a number of very expensive yet well-regarded private schools. It's truly ridiculous how much money goes through the DOE and how little of it is used for the schools. Fukn bandits.
37. No squirrels. No snakes either. There are a lot of animals that are disallowed. If you ever come to Hawaii, notice they'll make you fill out a declaration that you're not bringing in any foreign biological objects. This is because we have a delicate island ecosystem, so it would be easy to fuck it up. An example is Guam, which ended up getting snakes years and years ago, the snakes killed all the birds, and now you've got fukn snakes everywhere. So but yeah, no squirrels, which took me a while to get used to, and I always make it a point when I go back to the mainland to capture one & make it be my temporary pet. I make it wear a little costume with a big "S" on its chest. The "S" is both for "squirrel" and for "scandalous." Don't ask.
38. Surf Contests. Every winter there's lots of surf contests up at North shore, and the population of the area jumps from like 3,000 people to like 40,000 people, or something like that. One of the most prestigious contests is the Eddie Aikau invitiational, which can only be run if the waves at Waimea Bay are bigger than like 25 feet or something like that, so it only runs every few years.
Eddie Aikau
(pictured, above) was a Hawaiian waterman who died during the Hokulea, which was when they built an old school Hawaiian ship to recreate how the ancient Hawaiians must have traveled between Hawaii and places like Fiji and other far away places. They ran into problems and were lost at sea about 30 miles outside of Hawaii, so Eddie jumped on his surfboard and was going to paddle back for help. Well help showed up a little later, but they never found Eddie, he was lost at sea. This was back in the late 70's. Anyway, he's like a big local legendary figure. And any time you see those quicksilver stickers that say "Eddie would go," that's what those are about, because Eddie Aikau would always go, be it to surf a huge-ass wave or to paddle out for help.
39. which reminds me, that story gave me "chicken skin," which is the Hawaiian term for "goosebumps," ya know, that tingling sensation you get when something is spooky and or trips you out.
40. another little surf thing: when people measure waves here in Hawaii, they measure them from the back, whereas in most places on the mainland they measure them from the front (the face). This means that a 6' wave in Hawaii is actually much bigger than what they would call a 6' wave in, say, California.
---